Pakistan Expedition
Booking Dates
06/21/2023 through 10/12/2024
Travel Dates
06/21/2023 through 10/15/2024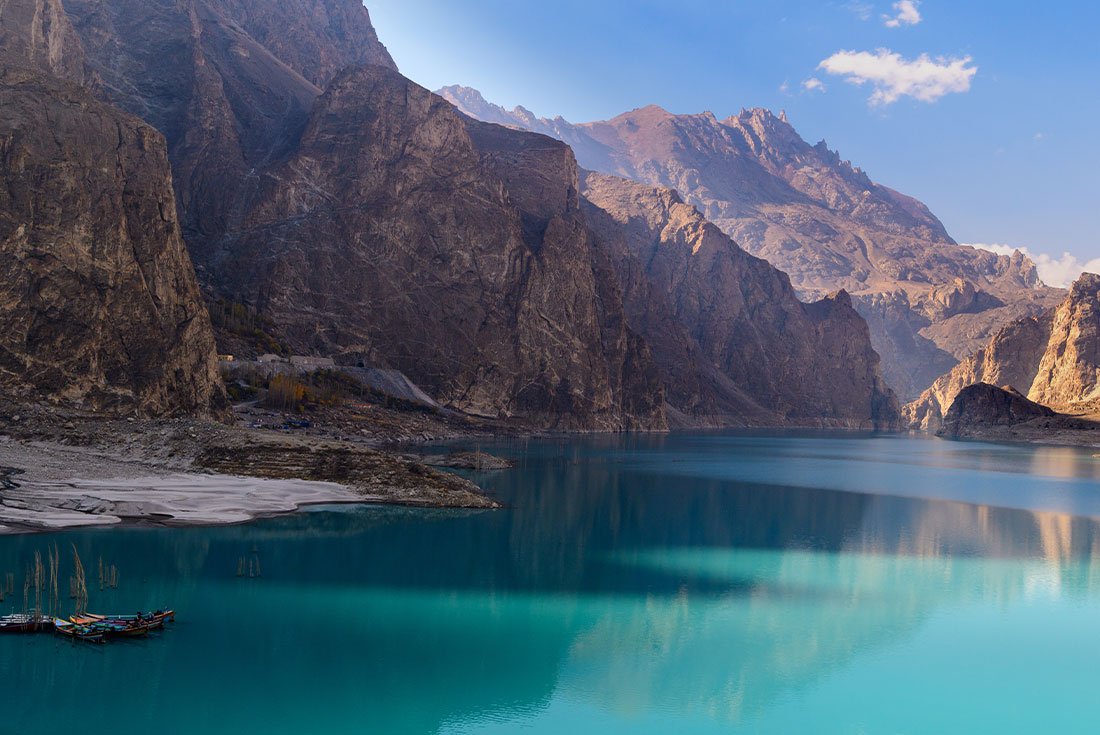 Pakistan Expedition

This 15-day expedition is a brand-new trip through an ancient land. Beginning in Pakistan's capital of Islamabad, the expedition takes you north to the stunning and rarely touristed Hunza Valley region. Here you'll find nature unleashed: imagine imposing jagged peaks, alpine lakes and glaciers creeping into the valleys. Hike between ancient fortifications scattered among rural villages and learn about the modern innovations that help the local people prosper. Finish in Lahore, a city that not only stood strong through the rise and fall of empires but also preserved the culture that makes Pakistan such a mesmerising, all-consuming country.

Activities
Islamabad – Faisal Mosque
Islamabad – Taxila Museum & archeological sites
Ghulmet – Rakaposhi View Point
Gulmit – Ancient house visit
Hunza Valley – Ondra Polygah hike
Gulmit – Women-run carpet weaving center visit
Hunza Valley – Passu Village visit
Hunza Valley – Passu Glacier hike
Hunza Valley – Hussaini Hanging Bridge
Hunza Valley – Borith Lake hike
Hunza Valley – Traditional music performance
Shimshal – Village tour & optional hike
Shimshal – Day hike
Hunza Valley – Attabad Lake
Hunza Valley – Sacred Rock of Hunza
Karimabad – Market tour
Hunza Valley – Ganish Village walking tour
Karimabad – Baltit & Altit Forts
Chatwal – Katas Raj Temples
Lahore – Lahore Museum
Lahore – Bagh-e-Jinnah (Lawrence Garden)
Lahore – Anarkali & Liberty Markets
Lahore – Tomb of Jahangir
Lahore – Shalimar Gardens
Lahore – Wagah Border ceremony
Lahore – Walled City of Lahore
Lahore – Shahi Hammam
Lahore – Tomb of Allama Iqbal
Lahore – Badshahi Mosque
Lahore – Wazir Khan Mosque
Lahore – Akbari Mandi & Azam Cloth Market
Highlights
Learn about Pakistan – its turbulent past, fascinating present, and hopeful future – from a local leader who knows and loves the country best.
Discover the jagged snow-capped peaks, bright blue lakes and traditional culture of the Hunza Valley, a little touristed but unbelievably beautiful region of northern Pakistan.
From its ancient museums, gardens and forts to its fantastic food scene, Lahore has so much to offer. Spend three days discovering this dynamic city.
Travel to the incredibly remote village of Shimshal where you'll meet the local families who live in this challenging environment and hike through the surrounding mountains.
Visit a women's group supported by the Aga Khan Foundation to learn about their projects and have lunch at a cafe run by local women.
| Day | Description | View All |
| --- | --- | --- |
| Day 1 | Islamabad | Details |
| Day 2 | Islamabad | Details |
| Day 3 | Islamabat - Gilgit - Gulmit (2465m) | Details |
| Day 4 | Hunza Valley | Details |
| Day 5 | Hunza Valley | Details |
| Day 6 | Shimshal (3100m) | Details |
| Day 7 | Shimshal (3100m) | Details |
| Day 8 | Shimshal (3100m) | Details |
| Day 9 | Hunza Valley - Karimabad (2206m) | Details |
| Day 10 | Karimabad (2206m) | Details |
| Day 11 | Karimabad - Gilgit - Islamabad - Lahore | Details |
| Day 12 | Lahore | Details |
| Day 13 | Lahore | Details |
| Day 14 | Lahore | Details |
| Day 15 | Lahore | Details |